European Agricultural Fund for Rural Development
Grant news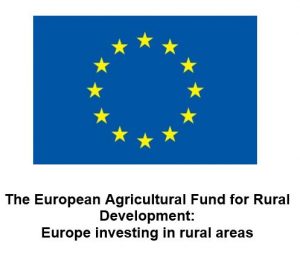 We are hugely grateful to REAL Devon for awarding us nearly £10,000 as a 40% contribution towards the cost of the foundations, building, electrical work, air-conditioning equipment and flooring of the shop. The remainder of the cash required for this work comes from match funding as a result of our share offer. REAL Devon Local Action Group (LAG) distributes grants to local people and businesses to develop opportunities for improving the rural economy and quality of life for people living and working in the area through a targeted grants programme with funds provided by the European Agricultural Fund for Rural Development. It is administered by Devon County Council.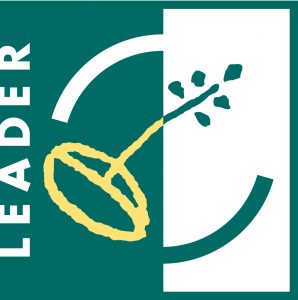 Over 150 people of all ages gathered outside the new shop to mark the opening ceremony on Saturday 12th May.   Two key members of the team, the ever positive Chair (David Plumridge) and hard working Secretary (Elly Babbedge), were unable to be there on the day and so it fell to other members of the Shop Committee to welcome the representatives of major donors REAL Devon (Chris Prentis and Roy Gould) and Cllr Margaret Squires from Devon County Council and thank the many local companies and individuals who have helped with the project. Not least of these are 50+ stalwarts of the Shop Management, Publicity, Buildings and Fundraising Groups. Thanks were also given to the "Paper ladies" led by Barbara Draper and Elly Babbedge who have braved freezing early mornings to keep the us supplied with newspapers from the very start.
In only 18 months from the first Village Meeting these volunteers have taken the project from the drawing board to a fully functioning Village Shop, a process that takes most Community Shops between 4 and 5 years.
Special thanks were given to the Treasurer and Chief Paper Lady, Barbara Draper, and to the Head of the Buildings Group, local Architect Eddie Holden, who designed the shop and co-ordinated the build.
The Shop was formally opened by local Rugby Star and Captain of Exeter Chiefs, Jack Yeandle, who also cut the celebration cake adorned with the Community Shop logo which was designed by his young cousin Jemma whose Scarecrow design won a competition at the Primary School.
First to enter the newly opened Shop was Manager Kevin Boddy, who was quickly doing a roaring trade in ice-creams.
Jack delighted many local Chiefs fans (old and young) by signing shirts and rugby balls.
He was also on hand to draw the Star prize in the shareholders raffle, a £100 voucher to spend in the Community Shop.
Head of the Fundraising Group, Charles Mossman, said "It was a marvellous afternoon and thank you to all the people who came to help us open the shop. We received grants from REAL Devon, The Prince's Countryside Fund (supported by the People's Postcode Lottery), the Big Lottery Fund, Tesco Bags of Help and Devon County Council through Councillor Margaret Squires, but half of our funds came from the sale of shares and donations from local people. It has been a real Community effort and we are delighted to be able to say that Cheriton Fitzpaine once again has a Village Shop."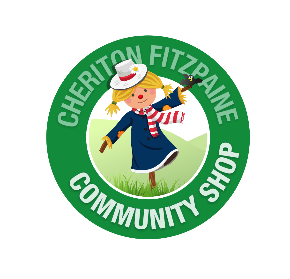 Rugby legend Jack Yeandle will be in Cheriton Fitzpaine on Saturday 12th May to open our new Community Shop
Come along at 2pm to see him cut the ribbon, then enjoy a Devon Cream tea, courtesy of our local councillor, Margaret Squires (with donations going to the Methodist Chapel on whose land the shop has been built).
Grand Prize Draw
Top prize a £100 voucher to spend in the shop
Quickes Hamper, voucher for the Ring of Bells etc.
Come and join in with the fun!
A Community Shop for Cheriton Fitzpaine is getting closer
Throughout 2017 a small group of people have been working tirelessly to make the vision of a community shop a reality, so that the area once again has a shop of its own. Plans are now getting to a very exciting stage. A Community Benefit Society has been set up and a lease for a piece of land for the shop, with planning permission recently granted, has been agreed in the centre of the village next to the Methodist Chapel. Four funding applications have recently gone out to various organisations seeking money to construct a wooden shop, kit it out and stock it. And now the Community are being asked if they would like to become part owners of the shop too by buying one or more shares in the project. Each share costs just £20 and anyone 16 or over can become a share holder and play a part in creating a successful shop for the area.
Paula Mossman, Vice Chair of the Shop Management Committee that are overseeing the project said, 'A Community Shop is different to a normal convenience shop. It is owned and run by the community and its aim is to meet the needs of that community by stocking the things the community asks for and being open convenient hours for those who live there. It can also be an important social hub too. Our shop will have a part time manager but will be mostly staffed by volunteers. Our aim is to cover costs and to put any modest profit the shop might make back into the community. Sandford has had a very successful Community Stores and Post Office run along these lines for many years, so we are confident that Cheriton Fitzpaine can do it too.
OPENING TIMES
Monday to Friday                             Saturdays
          7.30am – 6pm                             7.30am – 2pm
Sundays
Pre-paid newspaper collections only 7.30 – 9.00
          Bank Holidays                            Christmas Day
    7.30 – 10.30                                      Closed